Ich war schon immer ein großer Fan der 70er, 80er und 90er Jahre, insbesondere von derartigen Mega-Bands die Musik- bzw. Popgeschichte geschrieben haben. Dazu gehören Earth Wind & Fire, Kool & the Gang, Chic, Maze, The Crusader, Commodores und natürlich auch Incognito, die UK-Pop-Jazz Band mit Ex-Leadsängerin Maysa und Bandleader Bluey. Rückblickend waren die 90er, die goldenen Jahre der Jazz-Funk-Pioniere. Nach erfolgreichen 40 Jahren feiern sie dieses Jahr das Jubiläum ihres Debütalbums "Always There". Mit dem Kult-Popsong "Always There" gelang ihnen auch der internationale Durchbruch.
Neben Singles,Live-Favoriten,Raritäten und Remixe beinhaltet das Set außerdem noch unveröffentlichtes Material aus ihren 19 Studioalben, von denen 7 für Gilles Petersons Label Talkin Loud erschienen sind. Zu den Gästen gehören Stevie Wonder, Jocelyn Brown, Chaka Khan und Carleen Anderson.
Ich kann es kaum abwarten die Vinyl Box zu kaufen, falls Sie kommt.

CD 1: GREATEST HITS – PART ONE
CD 2: GREATEST HITS – PART TWO
CD 3: BLUEY'S TALKIN' FEATURES
CD 4: UNRELEASED TRACKS + RARITIES
CD 5: UNRELEASED TRACKS + RARITIES
CD 6: LAST NIGHT IN TOKYO Recorded December 14, 1996 at The Garden Hall, Yebisu, Tokyo
CD 7: GILLES PETERSON'S TALKIN' REMIXES PART ONE
CD 8: GILLES PETERSON'S TALKIN' REMIXES PART TWO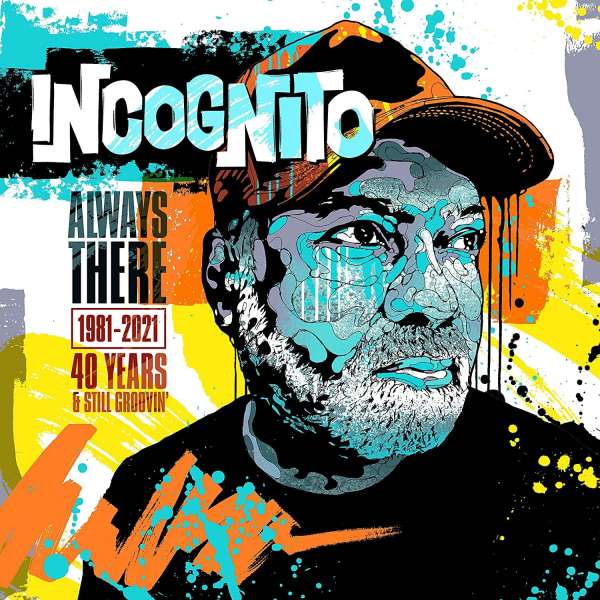 Disk 1 von 8
1Parisienne Girl
2Summer's Ended
3Shine On (Live Capital Session)
4Incognito (12″ Remix Version)
5Don't You Worry 'Bout A Thing
6Still A Friend Of Mine
7Deep Waters
8I Hear Your Name
9Everyday
10A Shade Of Blue
11Roots (Back To A Way Of Life)
12Talkin' Loud
13Change (Bluey's Remix)
14Colibri
15Spellbound And Speechless (Radio Edit / 2021 Mix)
Disk 2 von 8
1Always There (David Morales Remix)
2Givin' It Up (Roger Sanchez Uplifting Edit / Extended)
3Nights Over Egypt (Masters At Work Main Mix)
4Out Of The Storm (Morales Radio Edit)
5Morning Sun
6Listen To The Music
7It's Just One Of Those Things
8That's The Way Of The World (Short Version)
9Step Aside
10Lowdown
11Goodbye To Yesterday
12Silver Shadow
13Just Say Nothing
14After The Beat Is Gone
15You Are In My System
Disk 3 von 8
1Crazy For You
2Good Love
3Labour Of Love
4Always There (Original Mix)
5Fountain Of Life
6Where Did We Go Wrong?
7Cut It Loose
8Stay Mine
9On The Road, Pt.2
10Nights Over Egypt (Bluey's Mix)
11Inside Life
Disk 4 von 8
1Feels So Good
2Neon Mountain
3That's The Way It's Gonna Be
4Passenger
5Stay
6All That You Want Me To Be
7Celebrate Your Life
8Freedom Town (2021 Mix)
9Glide
10Port Louis
11Release Yourself
12Samba To Coda
13Step Into My Life
14The Padded Duke (2021 Mix)
15Pick Up The Pieces (Japanese Live Version)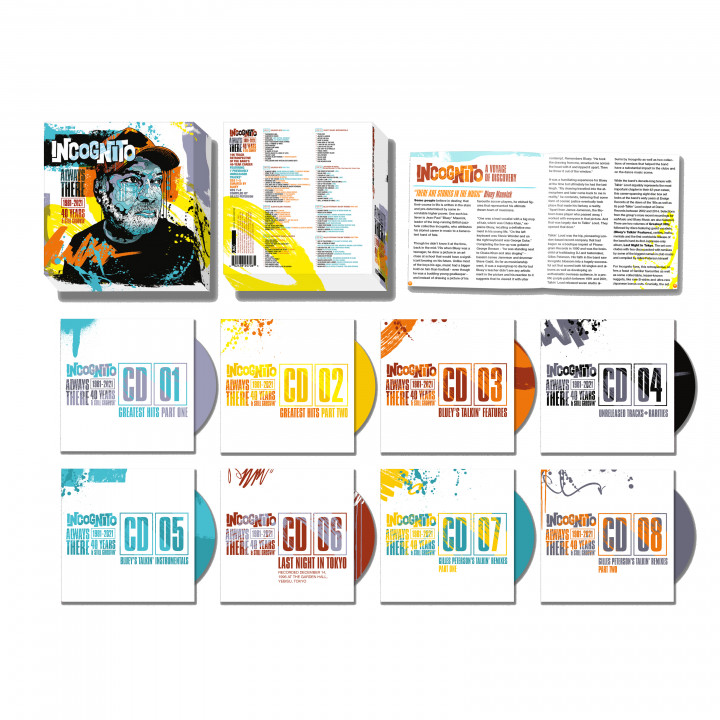 Disk 5 von 8
1Fearless (Instrumental Version)
2Jacob's Ladder
3After The Fall (Instrumental Version)
4Need To Know
5Dark Side Of The Cog
6L'Arc En Ciel De Miles
7Love Is The Colour
8One Step To A Miracle
9Tribal Vibes (2021 Mix)
10Rivers Runnin' Black
11Millennium (Instrumental Version)
12Black Rain (Instrumental Version)
13Solar Fire (Instrumental Version)
14She Wears Black
Disk 6 von 8
1She Rises In The East (Japenese Instrumental Live Version)
2Solar Fire (Japenese Instrumental Live Version)
3Labour Of Love (Japenese Live Version)
4I Love What You Do For Me (Japenese Live Version)
5Talkin' Loud (Japenese Live Version)
6Don't You Worry 'Bout A Thing (Japenese Live Version)
7Out Of The Storm (Japenese Live Version)
8Dark Side Of The Cog (Japenese Instrumental Live Version)
9Beneath The Surface (Japenese Live Version)
10Colibri (Japenese Instrumental Live Version)
11Deep Waters (Japenese Live Version)
12Everyday (Japenese Live Version)
13Roots (Japenese Live Version)
14Always There (Japenese Live Version)
15Still A Friend Of Mine (Japenese Live Version)
Disk 7 von 8
1Always There (Masters At Work Main Mix / 2021 Mix)
2Pieces Of A Dream (Roger Sanchez Samba Sensation Mix)
3On The Road (Danny Krivit Re-Edit)
4I Can See The Future (Ski's Main Mix)
5It Ain't Easy (Tom Middleton Cosmos Remix)
6Fearless (Blaze Shelter Dub)
7I Hear Your Name (Roger Sanchez Factory Dub)
8Everyday (Masters At Work Everydub)
9Jacob's Ladder (Nu Yorican Dub)
10Good Love (C.J. Mackintosh's Dub / 2021 Mix)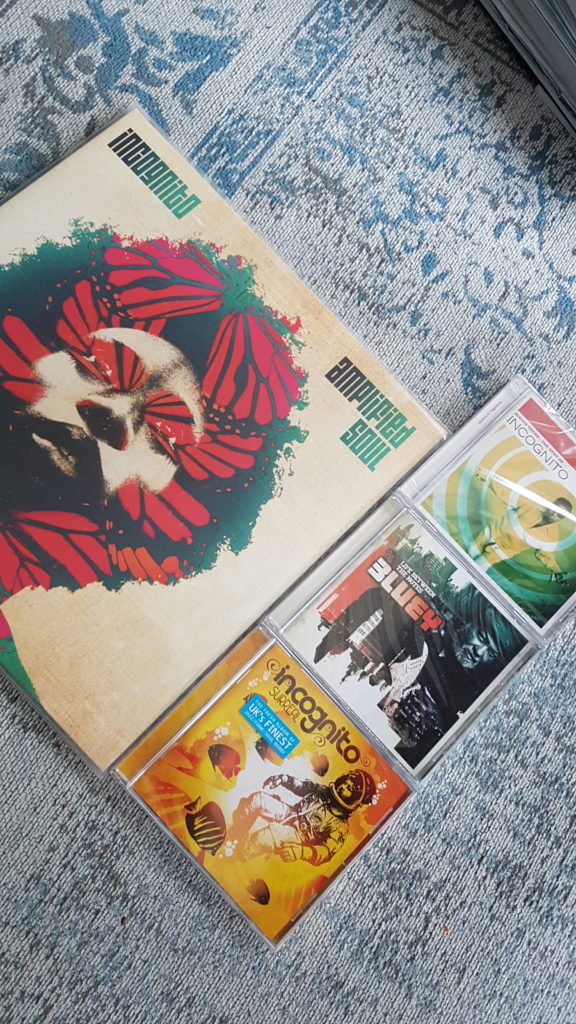 Disk 8 von 8
1Out Of The Storm (C's Planet E Special Mix)
2Still A Friend Of Mine (Gilles Peterson And Paul Martin's Singing Loud Remix)
3Can You Feel Me (Dealt With Bass Remix)
4Roots (Pete Rock Remix)
5Wild And Peaceful (K-Dope Remix)
6Get Into My Groove (Jazzanova Regroove)
7Castles In The Air (IG Culture Remix / Dreamers Schemers Re-Rub)
8Nights Over Egypt (MJ Cole Remix)
9Slow Down (Get A Grip) (Groove Chronicles Remix)
10Barumba (Daniel Maunick's Mix)
11Reach Out (Alex Attias Straight Up Funk Dub Remix)